Always start the data flow before starting the game. "Data flow" means the signal that comes from the brain to the computer.
1. Capture the signal
Press the green capture button to start the session.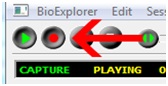 2. Calibrate (if using Wiz)
In the Wiz window press HEG Calibrate
or
on the Q-wiz device press the link button at the bottom of the device so the light is green.